【EN PRO 12/07】認識德國的"復仇母親" ,在審判中開槍打死了殺害她孩子的兇手
2022 年 12 月 7 日

發行者:

cubelish

分類:

困難字彙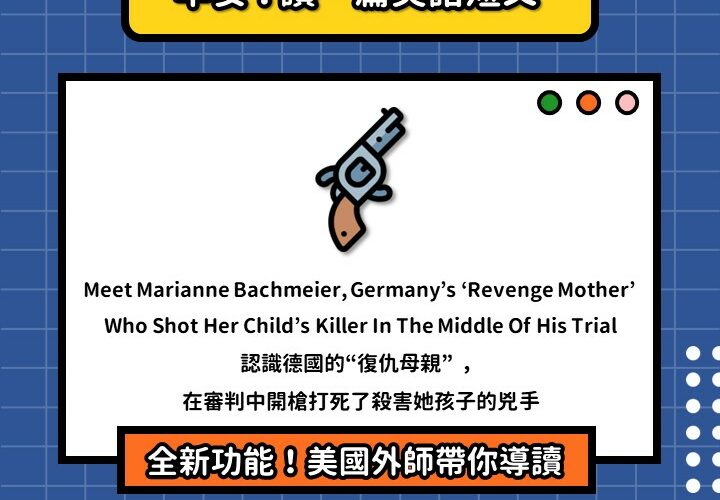 ▌Meet Marianne Bachmeier, Germany's 'Revenge Mother' Who Shot Her Child's Killer In The Middle Of His Trial
On March 6, 1981, Marianne Bachmeier
opened fire

in a crowded courthouse in what was then known as West Germany. Her target was a 35-year-old sex

offender

on trial for her daughter's murder, and he died after taking six of her

bullets

.
Immediately, Bachmeier became an
infamous

figure. Her

subsequent

trial, which was followed closely by the German public,

begged the question

: was her effort to

avenge

her

slain

child

justified

?
Before she was
christened

as Germany's "Revenge Mother," Marianne Bachmeier was a struggling single mom who ran a pub and in the 1970s Lübeck, a city in what was then West Germany. She lived with her third child, Anna. Her two older children had been given up for adoption.
According to NDR, the seven-year-old Anna had skipped school after an argument with her mother that
fateful

day and somehow found herself in the hands of her 35-year-old neighbor, a local

butcher

named Klaus Grabowski who already had a criminal record involving child

molestation

.
Grabowski was arrested that same evening after his
fiancé alerted

the police. Grabowski

confessed

to the murder but denied that he abused the child. Instead, Grabowski gave a strange and

disturbing

story.
The killer claimed that he
strangled

the little girl after she tried to

blackmail

him.
Marianne Bachmeier was
incensed

by this story and a year later, when Grabowski headed to trial for the murder, she had her revenge.
The court
ultimately

convicted Bachmeier of

premeditated manslaughter

and sentenced her to six years

behind bars

in 1983.

Article From ati

小提醒:可點選撥放器右下角
章節(Chapters)

選擇文法教學重點哦!

▌重點句型複習
1.open fire
開火
2.behind bars
被關押 ; 坐牢
▌補充例句用法
The enemy

opened fire

.
敵人開火了。

The murderer is now safely

behind bars

.
殺人犯現在已被關押, 不能為害了。
▌精選單字複習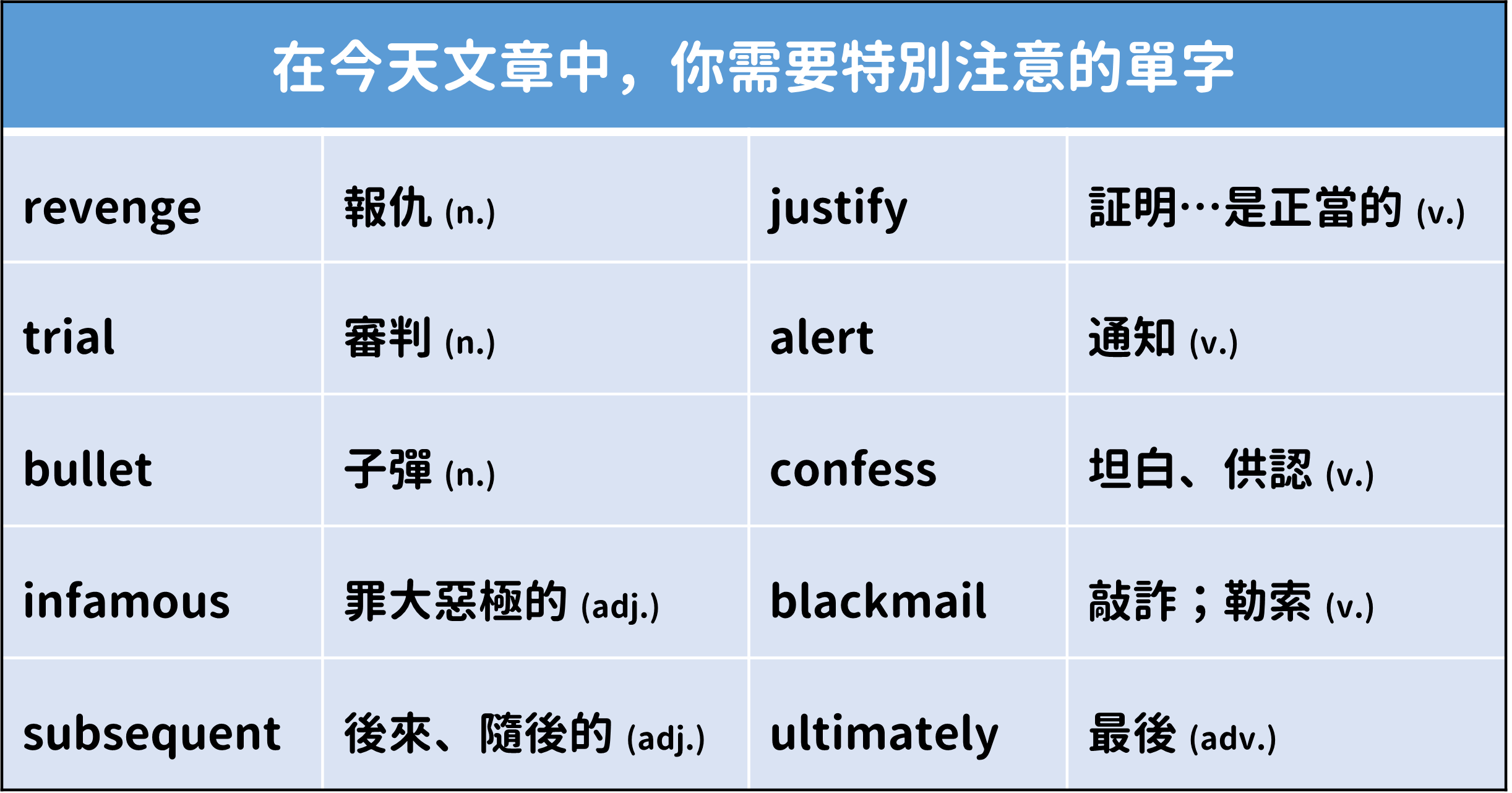 ▌補充例句的用法
Harry wanted

revenge

for his father's murder.
Harry要為遇害的父親復仇。

Nate was brought to

trial

on charges of arson.
Nate以縱火罪被送法院審理。

A

bullet

had lodged in the boy's leg.
一顆子彈嵌進了男孩的腿裡。

The

infamous

traitor was sentenced to death.
那個罪大惡極的叛徒被判處死刑。

The problem will be discussed at length in

subsequent

chapters.
這個問題將在後面幾章詳細討論。

I don't have to

justify

myself to anyone.
我不必向任何人解釋。

She's

alerted

me for weekend duty.
她已通知我週末值班。

Ben has

confessed

to the murder.
他供認了謀殺罪行。

Supposing he tried to

blackmail

you?
要是他想要敲詐你呢?

Ultimately

they did get the police to come.
他們最終叫來了警察。

▌為自己已學習選項打勾
閱讀一篇英文文章
複習句型單字
"Learn to walk before you run.

"
先學走,再學跑。
Teacher Vicky